forty seven race teams vied for prizes Saturday, totaling over $9,000 during the Red Bull Soapbox Race Saturday at Austin Ranch in The Colony. Two hundred teams had originally applied for inclusion to the race but only 47 were chosen for the elite competition.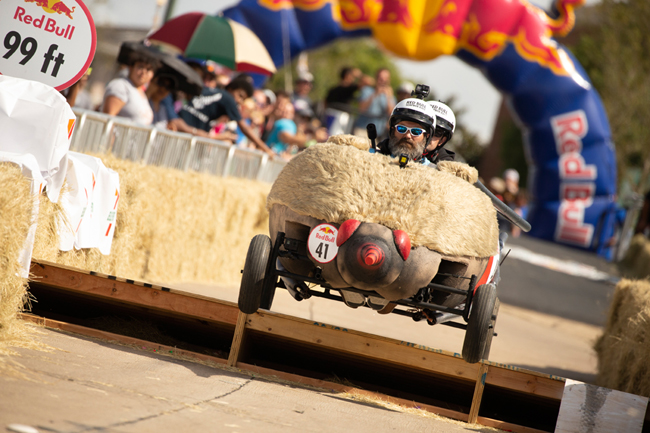 Thousands of spectators braved the heat, humidity and for a brief moment; some light-intermittent rain, to watch these whacky costumed racers hurtle down the big hill on Windhaven Parkway in The Colony, while maneuvering around curves, swerves, obstacles and jumping over multiple ramps. Yes, there were a few crashes, but no serious injuries occurred, but one of the sky-divers that floated down hit the ground harder than expected and was taken to a local hospital with minor injuries.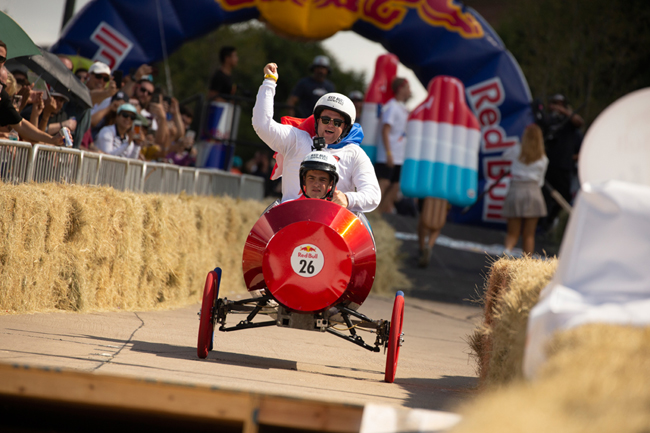 Six celebrity judges were on hand to critique each team based on criteria such as the creativity of the craft, the showmanship of their skit as well as their costumes and finally, the overall time it took them to reach the finish line. J-Si Chavez of the Kidd Kraddick show was on hand to help host the event along with celebrity judges Shawn Marion-NBA All-Star, Pudge Rodriguez-Texas Rangers Hall-of-Famer, Claire Buhrfeind-Olympic climber, Aaron Kaufman-Discovery Channels, "Aaron Needs A Job", Kaime Stroot-TV Host and personality and American rapper Dorrough Music.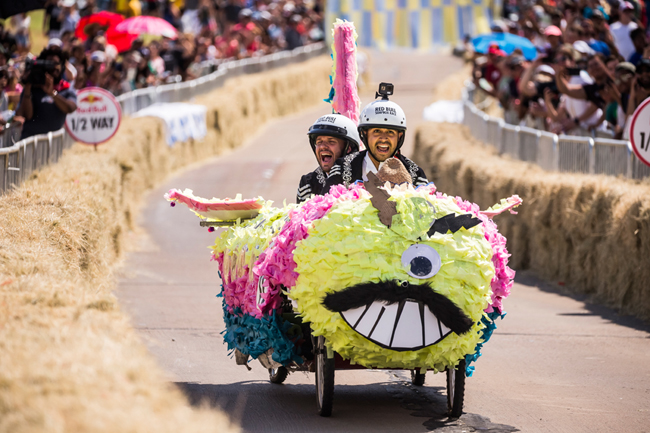 The first place winners were Team Skeeters 'Mosquito On A Mission' which was actually their third time racing in the series. They were awarded a gold medal plus a 'once-in-a-lifetime' experience of skydiving with the Red Bull Air Force, valued at $5,000.
The Second place medal went to a group of high-school students with their 'Bomb Pop Racer' which made an impression with the judges. They will receive an iFly tunnel flying experience valued at $3,000. Third place honors were awarded to Team Dallas Mavericks ManiAACS and their over-sized basketball shoe craft. They will receive a day of racing at the K1 Speed go-karting track. A value of $1,000. Team Formula Juan was awarded the popular vote and will also receive a day of racing at the K1 Speed track.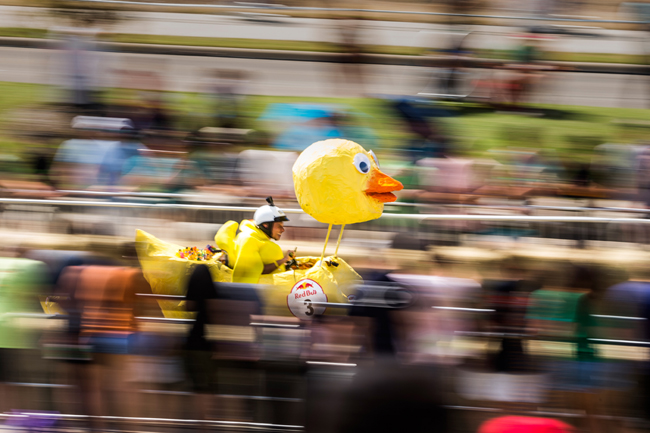 Since it's first race in Belgium in 2000, this global event has visited almost 30 countries in the past 19 years for a current tally of more than 100 races world-wide. The Dallas area event was only the 13th U.S. Red Bull Soapbox Race to ever take place. The first race in the U.S. occurred in 2006 in St. Louis. The last time Dallas (The Colony) hosted the race was back in 2012.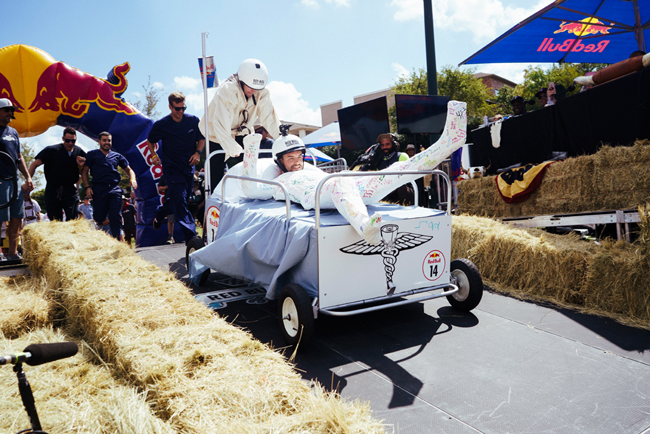 Yes, there were displays of lunacy, brilliance, creativity, bravery and bravado, but it was highly entertaining, albeit a bit humid…but that's Texas for ya. But it was wholesome, family fun, that seems kinda rare in big city burbs nowadays. Can't wait until they come back. and bring all of that free Red Bull again!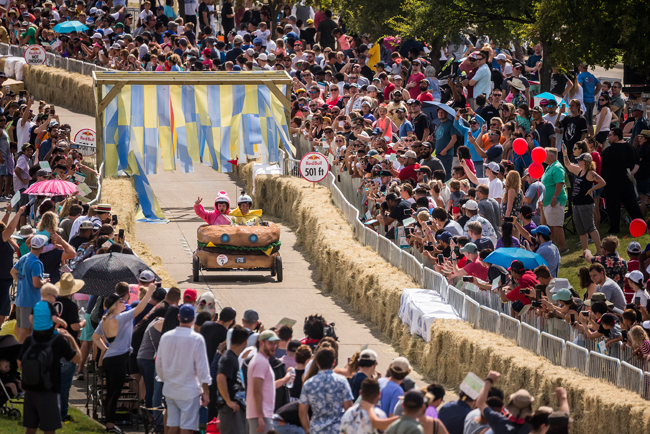 Visit the Official Red Bull Soapbox website for the full list of race teams and to watch a replay of the race in The Colony.
Advertisement