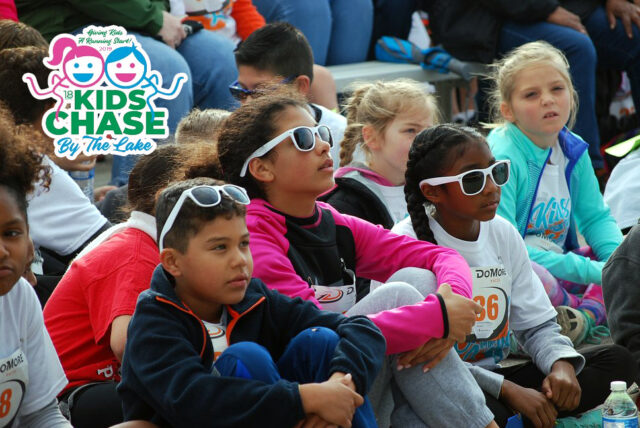 the Parks and Recreation Department and The Colony Roadrunners Club present the 18th annual Kids Chase by the Lake. The race takes place on the shores of beautiful Lake Lewisville at Stewart Creek Park. Children ages 9 and under will compete on a one-half mile loop, while children ages 10-12 run a one mile course (two loops of the 1/2 mile course) in the park.
Trophies will be awarded for overall race winners. Gold, silver and bronze medals will be awarded to the top five finishers in each age group (5, 6, 7, 8, 9, 10, 11 & 12), male & female. Every participant will receive a ribbon for completing the race. Results will be calculated and presented as soon as possible following the conclusion of the last race.
Additionally, the first 250 registered participants will receive an official race shirt and goodie bag! Please visit The Colony Recreation Center located at 5151 N. Colony Blvd. by 5pm April 12th to register or you can register online (HERE) until 12:PM, April 12, 2019. Anyone who wants to register after that can register in person at the event between 6:30am-7:30am. Before the awards are presented they will have numerous drawings for some awesome door prizes. Be sure to stick around, because you must be present to win!
The cost per child is $10, and there are family discounts available as well: $18.00 first two individual kids, $7.00 each additional individual kid. It is recommend that ALL participants arrive at Stewart Creek Park no later than 7:30am. Vehicle access to the park will be closed at 7:45am, so plan to arrive early or find an alternate parking location.
Stewart's Creek Park
3700 Sparks Road, The Colony, TX 75056
7:30am – Organized warm-up for all participants
8:00am – Races begin!
Advertisement