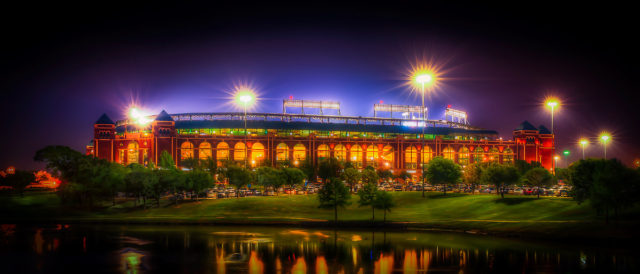 Who's the big slugger going to be this year at Globe Life Park? It looks like it's going to be the Dilly Dog pinch hitting. The ballpark has several new concoctions this year, but arguably the most talked about is the Dilly Dog. Sounds familiar but what exactly is it?
It's the newest over-the-top concession from Delaware North, the concessions company the handles the food at Globe Life Park. They take a giant Best Maid pickle, (Famous pickle provider from Fort Worth for the last 75 years!) and then they hollow it out, and stuff a beef hot dog inside the pickle, dip it in their special batter and deep-fry it.
This isn't really anything new for Delaware North as they have ventured out before in the past years with hits like popcorn covered in Cheetos dust, the 'two-foot-tamale', and giant hot dogs, all of which seem to make the Dilly Dog fairly resonable as it relates to you ballpark dining options. But definetely worht investigating further.
In fact so many people have been wanting to sample the newest fare, Delaware North was forced to expand it to another concession stand at the ballpark. The lines were getting long and not letting up, and the fans demanded that their taste buds must be satisfied in a timely manner. In just the first four games at The Texas Rangers home, the Dilly Dog has been sold to a tune of over $25,000.
And yes, you still eat it with mustard. After all..you're in Texas!
Advertisement