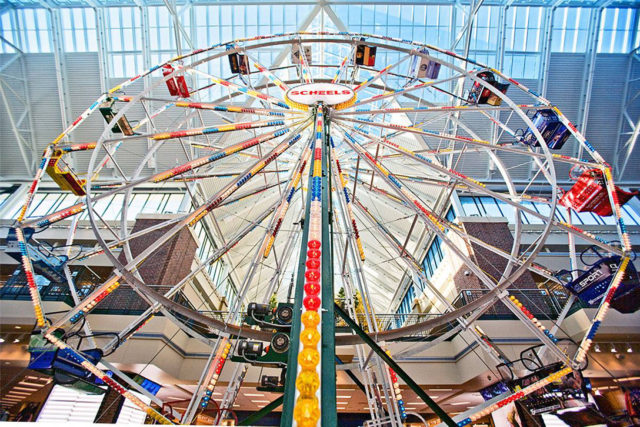 t he official groundbreaking for Scheels Superstore was Thursday, February 8 at the Grandscape Texas development here in The Colony.
This is one of several mega construction events that will be taking place during the next several years in Warren Buffet's massive project with nearly 4 million square feet of construction planned.
The Colony SCHEELS will be the World's Largest All Sports Store with 331,000 sq. ft. of top name brands under one roof. The store will have more than 85 specialty shops that will provide a retail adventure for the sports enthusiast, the outdoor adventurer, and for those that seek an array of fashion and footwear. The store will open in 2020.
SCHEELS' first All Sports Superstore opened in Grand Forks, ND in 1989. Today, SCHEELS is a 27-store operation with stores in 12 states including North Dakota, Illinois, Iowa, Minnesota, South Dakota, Montana, Wisconsin, Nebraska, Nevada, Utah, Kansas, and Colorado.
The new store will employ more than 400 associates, with many coming from the immediate area. Mayor McCourry said that the City of The Colony had been planning and negotiating for several years, and their hard work has paid off."It kind of feels like when you're a kid on a trip and you keep saying, 'Are we there yet…are we there yet?' We're here now today, and it's finally happening," he said.
"Are we there yet…are we there yet? We're here now today, and it's finally happening," said the colony mayor."
SCHEELS, 17202 Davenport Street, in Omaha has been placed in the Top Ten of Ferris Wheels in the country. It joins The Texas Star in Dallas, Texas (largest), The Sun Wheel in Anaheim, California (most colorful), and The Original in Chicago (replicates Chicago World's Fair original) as the "Top Ten Ferris Wheels" according to AOL-Travel.
The Colony's mega store will house a 16,000-gallon, saltwater aquarium and a 65-foot Ferris wheel. You're gonna have to bring the kids shopping with you now!
steve Scheel told the crowd at the ceremony that their research had shown that when a family enters one of their stores, the women generally tend to gravitate towards those things that are attractive to them, such as clothing, shoes, and such.  And generally didn't want to tag along with their spouse. This is by design because, "If we can break the couple apart early, they tend to stay in the store for an average of two and a half hours."
The Colony store will have more than 85 specialty shops located under one roof.
SCHEELS is an employee-owned, privately held business that owes its consistent success to its empowered associates, leaders and partners who think and make decisions for their individual stores and the entire company.
Steve Scheel said his company had studied the Texas market for the past 10 years, and The Colony was the right location at the right time.The mega sports store will be built across from Lava Cantina by Sampson Construction, which has been trusted to build Scheels stores for the past 19 years. Grandscape Texas is located at 3300 Plano Pkwy, The Colony, TX 75056.
Scheel said that each time they had built a Scheels store previously, within several years it became apparent that it wasn't large enough. Then they would build a bigger, better one, and the same thing kept occurring.
He said they realized that when they built the next one, (The Colony Location) they wouldn't repeat themselves. So they immediately knew that the new location would be the biggest in the world. Well..at least for now anyways. This IS Texas, and EVERYTHING is bigger and better in Texas! Welcome to your new home Mr. Scheels!
Advertisement