does it suddenly feel like the N. Texas corridor, especially The Colony, is booming with activities, entertainment, shopping, sports and tons of cool,unique festivities in and around the city? Well, let's add another check mark in that category as The Colony welcomes the Red Bull Soapbox Race this Saturday, Sept. 28, 2019 at Austin Ranch.
The Colony, Texas comes alive as Austin Ranch once again plays host to the Red Bull Soapbox Race. The Red Bull Soapbox Race is an international event in which amateur drivers race homemade soapbox vehicles. This unique event challenges both experienced racers and amateurs alike to design and build outrageous soapbox dream machines and compete against the clock in a downhill race.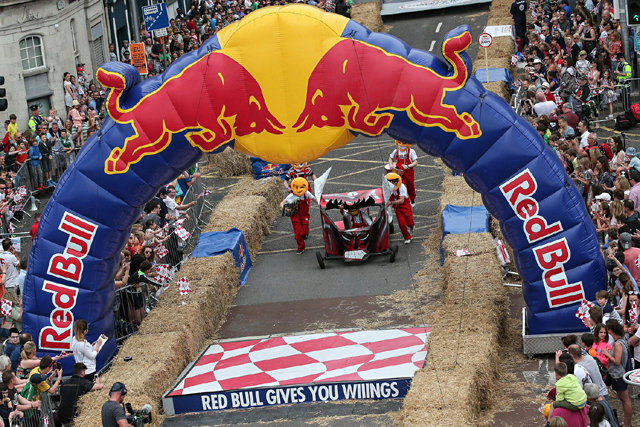 A total of 44 teams will descend upon Austin Ranch to compete for prizes and braggin'-rights alike. Although hundreds of hopeful participants applied for these 44 coveted spots; only the most unique and creative were chosen for this weekends race.
The race will be judged by a panel of celebrity judges who will present 1st, 2nd and 3rd place awards for Creativity of Craft design, Showmanship/Race performance of the Craft and Team, including a stage performance of up to thirty (30) seconds, and Speed/Race time, recorded in seconds. So, just because a team may have the fastest time; they may not necessarily win the race. This concept has been widely praised and criticized, but all agree, that it definitely adds to the spectacle and allure of the race!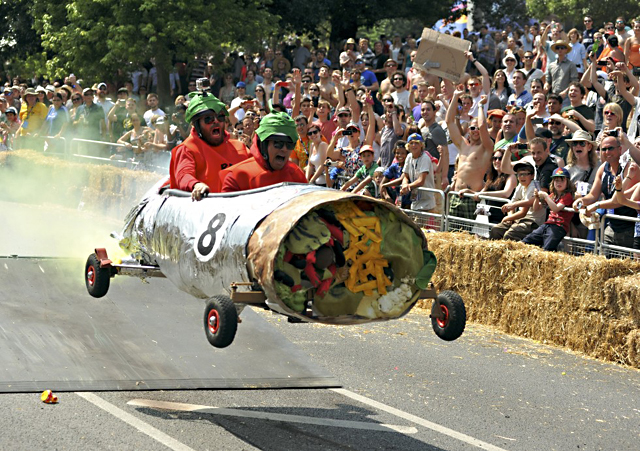 Since it's first race in Belgium in 2000, this global event has visited almost 30 countries in the past 19 years for a current tally of more than 100 races world-wide. The Dallas area event will be the 13th U.S. Red Bull Soapbox Race to ever take place. The first race in the U.S. occurred in 2006 in St. Louis. The last time Dallas (The Colony) hosted the race was back in 2012. Please check the CITY'S WEBSITE for road closures in the area. Visit the Official Red Bull Soapbox website for additional race information.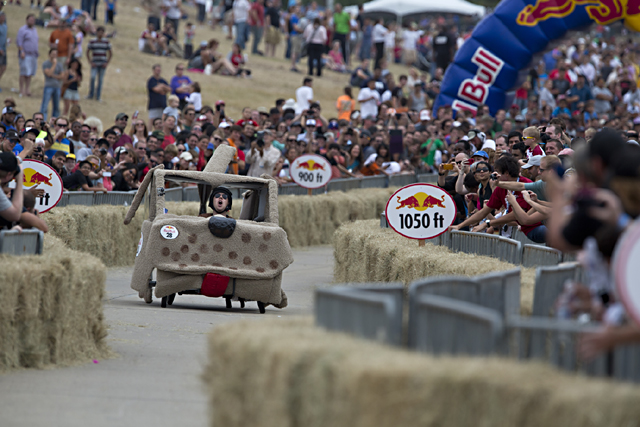 The rules for the crafts that are entered are pretty simply and straight-forward:
All crafts must be human powered, meaning no engines, pedals or external energy sources.
It must not exceed a maximum of six feet wide and twelve feet long, be at least seven inches from the ground and no taller than seven feet.
It must have fully functioning brakes and steering.
It must not exceed 176 lbs. in weight (excluding the driver, of course).
At the end of the Event, the Event Judges will tally the points awarded from all the Event Criteria and award prizes to the highest-scoring Teams as follows:
First Place: A one-of-a-kind Red Bull experience (exact details to be
determined by Red Bull in its sole discretion). Approximate retail value: $5,000
Second Place: A one-of-a-kind Red Bull experience (exact details to be
determined by Red Bull in its sole discretion). Approximate retail value: $3,000
Third Place: A one-of-a-kind Red Bull experience (exact details to be
determined by Red Bull in its sole discretion). Approximate retail value: $1,000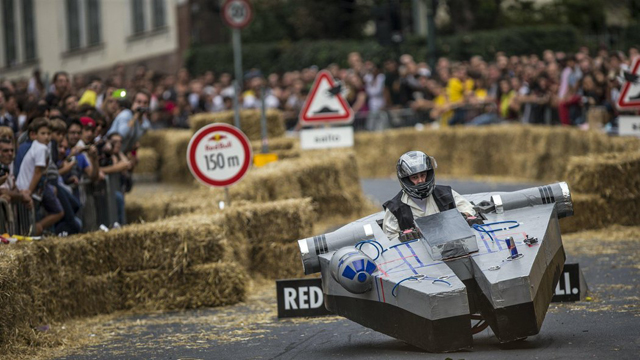 Parking Lots Open
9:00am
Shuttle Service Starts
9:30am
Gates Open
10:00am
Pre-Show Pit Lane Walk
10:00am
Show Start
11:00am
Racing Starts
12:00pm
Award Ceremony
4:00pm (est.)
Event Concludes/Venue Close
4:30pm
Shuttle Service Ends
5:00pm
*all times subject to change
Advertisement