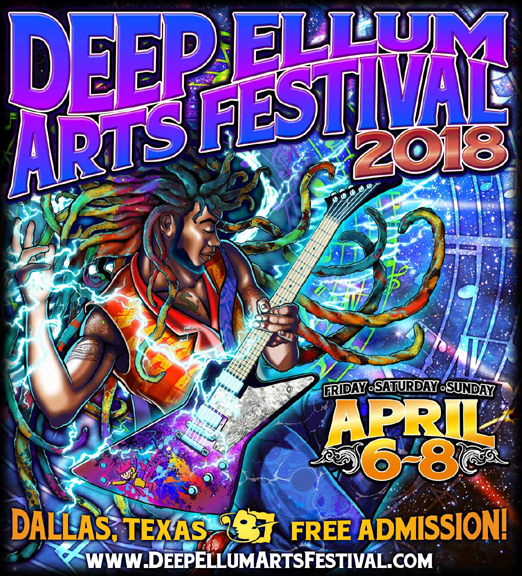 the DFW Metroplex's most eclectic and progressive neighborhood invites you to the biggest party of the year! The free 3-day, Deep Ellum Arts Festival in Downtown Dallas embodies everything that makes DFW rock. Experience more than 200 juried decorative and visual artists selling and commissioning original works, and 100 original bands and performers artists showcasing the newest sights and sounds from six different stages and two additional performance areas!
The free 3-day, Deep Ellum Arts Festival in Downtown Dallas embodies everything that makes DFW rock.
Six blocks of Main Street in the Dallas entertainment district of Deep Ellum, 2900-3400 Main Street, Dallas TX 75226, will be transformed into one enormous street festival. And don't forget about all of the enticing food vendors that are located strategically throughout the festival along the route, which are sure to satisfy that 'festival-appetite' that we always seem to get this time of the year. Local pet enthusiasts always look forward to the renowned Pet Parade, when they can march alongside their furr-babies in what has become the 'must-attend' event of the festival.
Festival attendees can stroll through displays of cutting-edge decorative arts and admire, commission, and purchase the works of sculptors, muralists, jewelers, painters, leather and wood crafters, as well as other specialized fine artists, some of whom will be creating original pieces on the spot.
Be sure to check out the 'Artist Underground,'an interactive creative space featuring Dallas mid-career professional artists as a cohesive collective. Expect to interact with fine art, live painters, graffiti artists, body painting, installation art, sculpture, dance, performance art, live music and more. Visit us at the East end of the Festival at Main St. and Exposition Ave… south-west from the Lone Star Stage.
guests can enjoy a wide array of tasty local cuisines, beer, wine and cocktails while experiencing more than 200 juried fine artists such as pastel portrait artist Casie Warnke(Art by Casie) from Buda, Arlington-based photographer Cliff Bas, evocative painter Sarah Goodyear from West Virginia, and the husband-wife metal-smithing team Dillon Rose who are showcasing handcrafted jewelry on site.
"The exquisite collections showcased will include paintings, sculptures, murals,
jewelry and other original works of art."
The Deep Ellum Artists' Village, situated at the corner of Mainand Malcolm X, showcases local music and fine art. New for 2018, the Deep Ellum Artists' Gallery, presented by DECAis a 1,000-square-foot pavilion featuring a gallery-style presentation of cutting edge Dal las fine artwork. Additionally, a limited number of booth spaces are reserved for 75226 artists, galleries, and artisan-makers. Participating galleries include Kettle Art Gallery
and W.A.A.S. Gallery.
Dates:April 6 -8, 2018
Friday and Saturday: 11 a.m. to 11 p.m. | Sunday 11 a.m. to 8 p.m.
Admission:
Free (thanks to the generosity of the festival's sponsors, exhibitors and concessionaires). Detailed festival informationcan be found online atwww.DeepEllumArtsFestival.com or by
bookmarking the Festival guide directly at www.defest.guide.
This is an "adult-oriented" visual and performing arts festival; while supervised young children and teenagers are welcome during the day, there are no specifically planned activities for them.
Advertisement